Safe Veggies, Happy KKU Network has efficiently created the huge natural refrigerator next to the office for the 8th year, the time for harvesting peanuts and share to develop unity, sufficiency, and happiness in the workplace.  
    On Friday, July 19, 2019 at 9 a.m. at Self-sufficient Plot near Sirikunakorn Building, Mr. Thanya Pakdee, Director of Central Administration Division and Chairperson of Safe Veggies, Happy KKU Network, Office of KKU President, made an appointment with the network members to harvest 3 month-old peanuts, a summer plant, and boiled them before sharing. This fantastic activity that has rotated plant growing has reached its 8th year.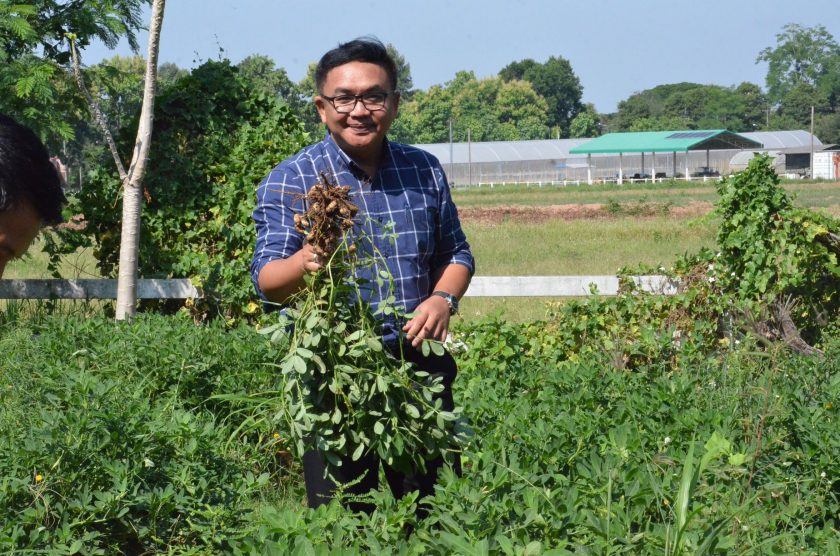 Mr. Thanya Pakdee said, "Self-sufficient Plot Project is a part of Office of KKU President's project aimed to develop culture of the organization. The main job is to grow plants from seeds we had taken from our vegetable plot called Self-sufficient Plot of Office of KKU President. The network members consist of personnel from different offices subsidiary to Office of KKU President. In each year, we grow plant 3 times – planting common vegetables in winter, then planting peanuts to make the soil fertile, and planting vegetable for cooking. That's why we are here today to harvest peanuts."
    Mr. Thanya continued, "These plots are like a huge refrigerator of staff at Office of KKU President. We can pick some vegetables and keep them for lunch or dinner. We grow, harvest, take care of them, and share with our colleagues as well as our beloved families. Peanuts we are harvesting today came from KKU's seeds. We planted them 3 months ago. Peanuts are easy to take care because they can grow by themselves if we just water them. Today we invited members to pick, wash, and boil these peanuts, and we'll share them with members who came today and who are engaged at work. Some members will deliver boiled peanuts to different offices. Then they will take the rest back home to share with their family."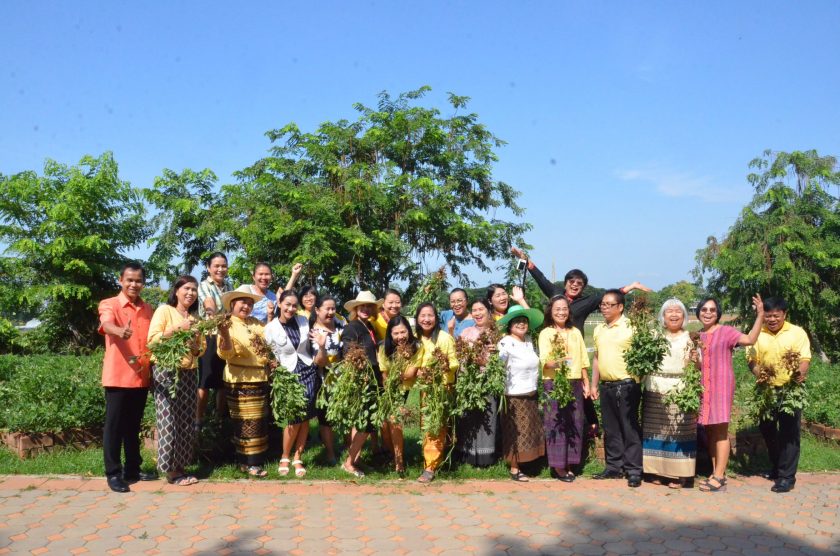 "If we ask what benefits that these plot gives us, we see that these tiny seeds can connect people f Office of KKU President together even though they're from different divisions. If people can get out of their table and work with smiles, that would be a good way to support good culture of each organization. This activity is also consistent with President's strategies informed to different offices through Director of Office of KKU President. Collaboration between network members also reflects the university's strategies focusing on people, happy workplace, ecological concept, awareness of healthy environment, green university, and spiritual values building up teamwork that will penetrate into every university strategy. Therefore, growing plants is a simple activity, but it can strengthen our relationship affecting on great activities that we can do in the future," Mr. Thanya said in the end.    
News: Wadchara Noichompoo
Photos: Wadchara Noichompoo / Jiraporn Pratumchai / Somkuan Pirunsuntorn
[ Thai ]