Khon Kaen University will soon end Line 8 mini-bus service within the campus and proposes an alternative channel for the in-campus commuters.
Based on the university order number OrWor. 660201.2.2/8893 dated on June 25, 29019, Khon Kaen University has ruled that the service of the mini-bus Line 8 that transports people from KKU back and forth to the city of Khon Kaen be terminated as of July 25, 2019.
The information relating to the commute within the university and from the university to other places in Khon Kaen is presented herewith. Khon Kaen University has provided a free bus service, The KST Line, within the campus which takes the passengers from inside KKU to the campus's gates in order to take the private buses to other parts of Khon Kaen. At the transferring points, the passengers can take different buses to go to important places around the city including; Central Plaza, Khon Kaen Hospital, Bus Terminal 3, Khon Kaen Airport, Tontan Market, and Pratoonam Market. The passengers may obtain additional information about the services at; http://kst.kku.ac.th/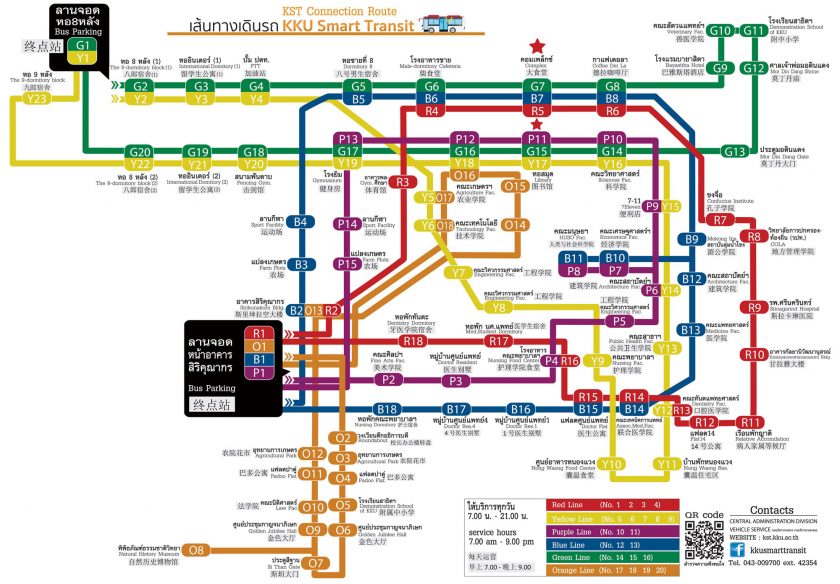 Below is the information about mini-bus service to other places outside of KKU.
The termination of the Line 8 mini bus service inside Khon Kaen University is ruled in order to maintain order, convenience and security for KKU residences. Research is being conducted about the needs to have private transportation service inside KKU. As suggested by the research, an announcement for selection of the bus providers will be made public based on the official regulation.
News: Department for Public Communication
Photos: Boripat Thasi
Graphic Design : Akkaraphong Hamphong
[ Thai ]