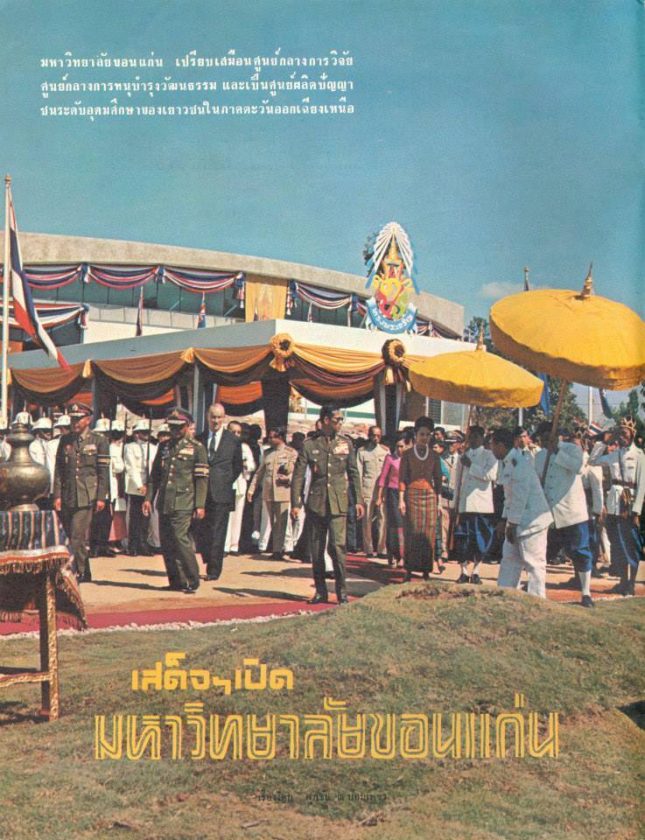 "The foundation of Khon Kaen University is of utmost values since it enabled expansion of higher education into one of the most important regions of the country. It will benefit the development and upgrading of the living of the regional people. The success of Khon Kaen University's foundation is thus the success everyone should be delighted."
His Majesty King Bhumipol's saying on the occasion of the auspicious foundation ceremony of Khon Kaen University on December 20, B.E. 2510.
Khon Kaen University is the first university in the Northeast. The thought of establishment of a university in this region can be traced back to the period before the Second World War. However, plans and true preparation had not been carried out until under the government led by General Sarit Thanarat when this region was being developed in 1962. Hence, construction work started in 1964. An agreement was made to initiate two programs in engineering and agriculture at a place named "Ban Seethan", Khon Kaen Province. The proposed name of the university was Khon Kaen Institute of Technology (K.I.T.), a tertiary level institution affiliated to the National Education Council. Later in 1965, the cabinet at that time had a consensus to change the name to Khon Kaen University. His Majesty the King ordered the issuance of Khon Kaen University Act and the announcement in the Government Gazette on January 25, 1966, the date abided by all the University Foundation Day.
Determination and Philosophy
Khon Kaen University is the center of social thoughts and intellects. It is the educational center of the Northeast. Khon Kaen University holds firm to academic excellence and extends relationships with worldwide institutions for exchanges of knowledge and technology. Khon Kaen University is geographically located close to the Indochina countries, and is a link for Indochinese knowledge.
Khon Kaen University has mechanisms to develop towards academic excellence in all fields and has laid the foundation for the regional information center with support from efficient administration.
Graduates of Khon Kaen University are individuals with knowledge, moral, and intellect that can be applied in their actions towards optimal benefits for the region, the country, and the world.