KKU students, staff and folks join private and governmental organizations to assist people suffering from the floods in Isan  
    Podul, a tropical depression from Vietnam that came striking Thailand's Northeast after Lao PDR made the night of August 30, 2019 a nightmare for many Isan people. Floods have inundated many areas in Isan. Khon Kaen University as a socially-dedicating organization has therefore and immediately taken action by sending students and staff to help those in trouble in Roi-et, Banpai District and other cities close by. The following organizations are now open to receive articles including clothes, rice, dry foods and drugs for the flood victims: 
    1. Student Organization – accepting consumption goods, foods, rice, dry foods, clothes and medicine at Ground Floor, Student Activity Building, Khon Kaen University during 24 hours of any day. 
For contact please call: 098-2731121 (Pam) or 084-4099690 (Pang) or donate at Student Organization 2019 Account No. 551-447591-7
    2. Khon Kaen University Alumni Association, Thai PBS and Private Sector Network
Please donate articles at Khon Kaen University Alumni Association Office (near the Great Mo Din Daeng Spirit) Tel. 04320-2389 or 089-652-5224. Donation can also be done through Khon Kaen University Alumni Association Account No. 438-1-224301-3, Krung Sri Ayuthaya Bank. 
    3. Faculty of Business Administration and Accountancy (KKBS)
    Please donate foods and consumption goods such as rice, dry foods, drinking water, medicine, cleaning utensils, etc. for those suffering from floods.
    Donation can be done at the ground floor, BS01 Building or at KKBS Café, BS01. For more information, please contact Khun Panadda Tansuwanrat, 081-459-5451.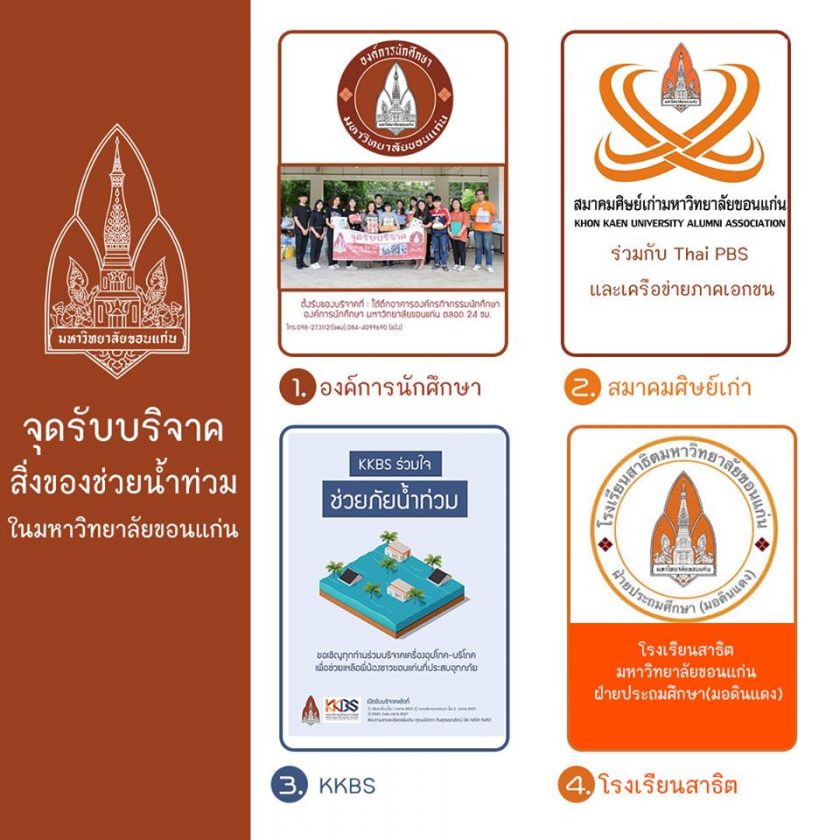 [ Thai ]