Khon Kaen University Nong Khai Campus held the 14th "KKU Nong Khai Fair 2019
     August 15-18, 2019 – Khon Kaen University Nong Khai Campus, Office of Academic Services of Khon Kaen University and Ministry of Science and Technology held the 14th National Science Week and "KKU Nong Khai Fair 2019". The event aimed at providing service to the community as KKU is a higher education institution responsible for giving knowledge to students, school students and people in general and disseminating quality academic outcomes, instructional methods, research development and traditional and cultural fostering which are important national resources. The National Science Week and the KKU Nong Khai Fair are a tool for enhancing knowledge, creativity, ethics and moral, good cultures and developing quality graduates for the community. The event was also a venue for demonstrating academic and scientific outcomes developed by lecturers, students, and personnel. The activities were categorized into 4 types: 
Academic activities and exhibition to commemorate the Father of Thai Science

Academic question-answer contests

Academic contests 

Contests of scientific projects and Thailand 4.0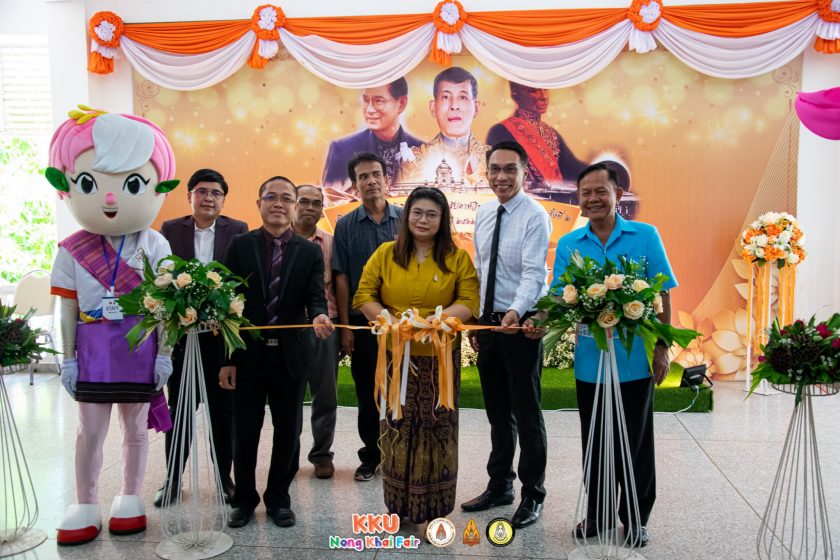 Asst. Prof. Dr. Nongram Muanrit, Dean of Faculty of Applied Science and Engineering presided over the opening ceremony. "Khon Kaen University Nong Khai Campus sees the importance of academic and professional services to the society as these will bring benefits to all. With these in mind, we open up a chance for the transfer of academic knowledge to schools and people in the upper Isan areas. We encourage awareness of the roles of institutions and students to assist the society through provision of knowledge in different fields. This occasion offers a venue for presentation of academic outcomes as well as art and cultural performance. We have developed academic bodies of knowledge and application of technologies that will benefit youths. The question and answer session is a stage for school students to demonstrate their abilities to use the knowledge as a means to rely on their own. It will show how students can help develop the country and compete at the world level. The occasion also encourages ideas and research that will in turn create new innovations that can be used for the country development. At the same time, this event will publicize and disseminate students' and school students' work."
     The fair featured an exhibition to commemorate the virtues of the Father of Thai Science, presentation of the tray to pay homage to the Monument of King Rama IV at NK2217 Room, demonstrations of scientific and technological innovations, sports and exercises innovations, cooking Thai desserts, radio-controlled aircraft or drones of Nongkhai, Futsal game, electronics games, answering economics questions, English Quiz 2019, Business Challenge Skill, answering questions in laws and political sciences, competition of food innovation from "pineapple", fashion-show of unused materials, digital photographing under the topic, " Isan Lifestyles", competition of beautiful flora box decoration, competition of portfolios, scientific drawing contest, Cover Dance Competition, scientific project competition. Participants included around 10,000 school students, teachers and people in the upper Isan areas.  
News: Panpon Meepian
Photos: Panpon Meepian, Anirut Sutthinan, Teerachai Sooksong and students 
[ Thai ]