KKU ranks the third among Thai universities in the world research university and the second of Thai's health science universities
May 20, 2019 – Prof. Dr. Surasak Wongratanacheewin, Vice President for Education of Khon Kaen University revealed that "Leiden" the institute in the Netherlands that rank the world university announced the raking of "CWTS Leiden Ranking 2019" from research work that has best impact from the Web of Science or ISI, which contain high quality work. Leiden in the Netherlands ranks universities from ISI research or the Top 1%, 5%, 10%, 50% of high quality journals.
In 2019 (data back in 2014-2017) and the research work of research universities in Thailand, the university with publications in the Top 1% of journals or the best 1% journals with impact; KKU has been ranked the third in Thailand, following Mahidol and Chulalongkorn Universities.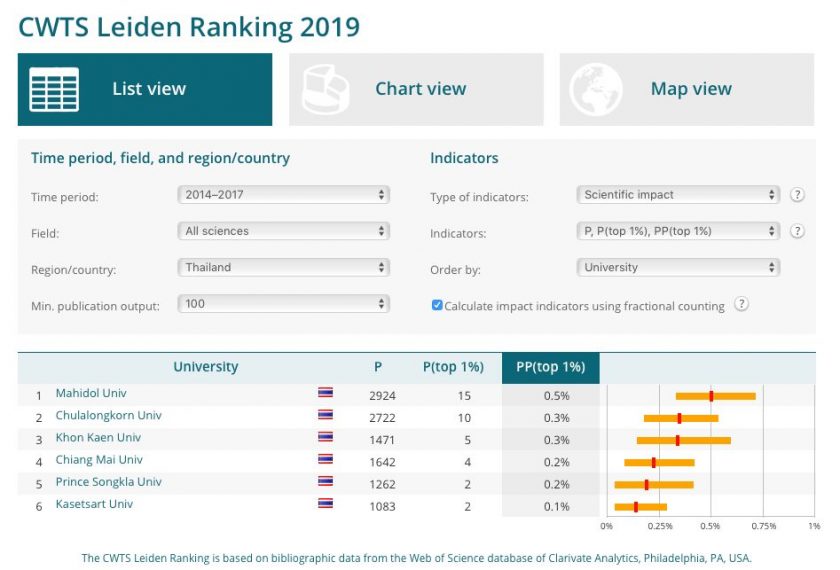 When considering ranking in the fields of biomedical and health sciences, Khon Kaen University comes the second in the country second to Mahidol University. In Thailand there are 5 universities in the ranks, namely: Mahidol University, Khon Kaen University, Chiengmai University, Chulalongkorn University and Prince of Songkhla University.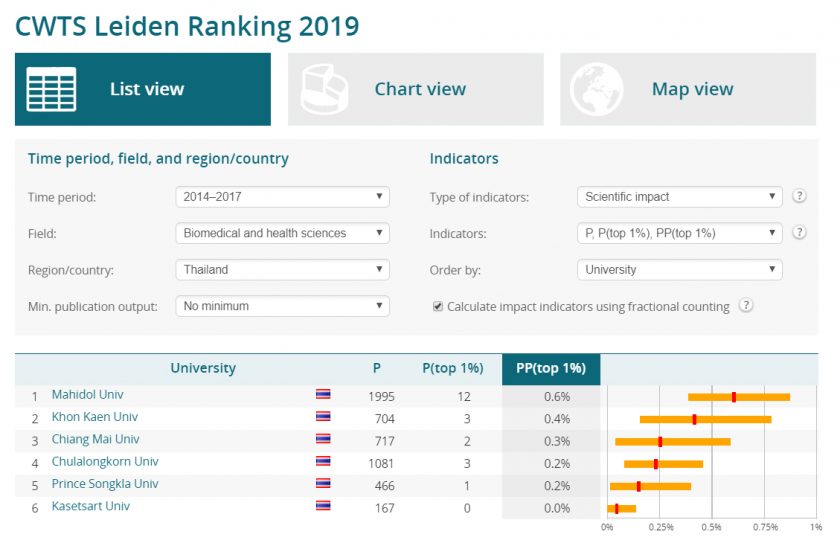 The work in health science of Khon Kaen University clearly comes from the propelling of missions that have contributed to this second rank. For example, we have the Liver Fluke and Cholangiocarcinogen Project by Assoc. Prof. Dr. Narong Khanteekaew MD from Faculty of Medicine. This project has solved the problem in 20 provinces in the Northeast, 8 provinces in the North and one province in the East. The project also screens patients in Lao PDR. There are also the Northeast Renal Disease Prevention Project with Assoc. Prof. Dr. Sirirat Anutrakoonchai MD from Faculty of Medicine as the project leader. This project educates people and helps mitigate incidence of the disease in 20 Northeast provinces, 3 Southern provinces. There are specialized health research centers such as Center for Promoting Quality of Life of Working-age People, Research Center for Liver Fluke and Cholangiocarcinogen, Research Center for Herbal Health Products, Research Center for Medical Diagnosus, Research Center for Melioidosis, Research Center for Newly Infectious Diseases Service, Research Center for Cleft Lips and Palate Patients under Tawanchai Foundation, research and Training Center for Gender and Women's Health, Research Center for Integrated Alternative Medicine, Research Center for Back Pains and Human Performances.
Besides these projects there are still other projects continuously implemented by Khon Kaen University from which quality research works have been produced that have led to problem solutions and benefits to the society in the Region.
For the ranking details, please visit: http://www.leidenranking.com/ranking/2019/list