KKU otolaryngologists suggest how to reduce allergy symptoms caused by the weather and pollen in winter
Faculty of Medicine and Communication Affairs Division, Khon Kaen University, hosted press release at Sirikunakorn Building on how to handle allergy caused by pollen in winter. It was an honored to have Assoc. Prof. Charnchai Panthongviriyakul (M.D.), Acting President, remarking welcome speech to the press; and Supawan Laohasiriwong (M.D.), Vice President of Otolaryngology Program, Faculty of Medicine, who specializes in allergy. The objective of the event was to respond to the spiritual aspect of Khon Kaen University concerning about people's health in winter.
Assoc. Prof. Charnchai Panthongviriyakul said the weather in winter changed, so the university concerned about people's heath. The spiritual aspect of Khon Kaen University encouraged the university to dedicate to society and apply knowledge for people's well-being in general. The event could happen under the collaboration between Faculty of Medicine and Communication Affairs Division meeting the press monthly to share information beneficial to society. The collaboration from the press had been expected for the development of society.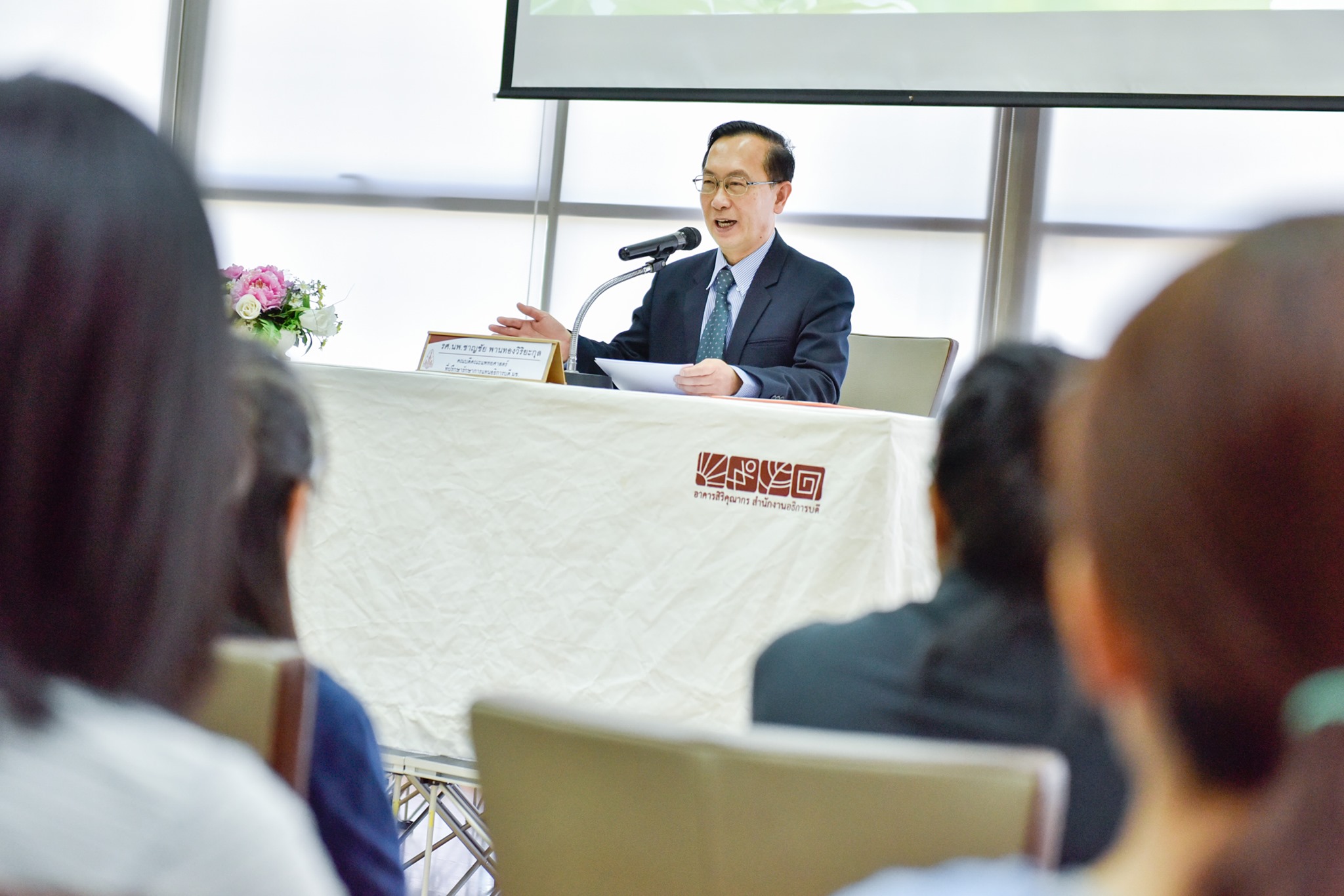 Supawan Laohasiriwong (M.D.) revealed patients having allergy in Thailand could be categorized into groups – 23-30% having nasal allergy, 10-15% having asthma, 15% having skin allergy, ang 5% having food allergy. The most often found allergy was nasal allergy, and it was divided into 2 groups – perennial allergy and seasonal allergy. The symptoms of perennial allergy were nasal congestion before raining or where there was lots of dust. Plenty of Thai people had this kind of allergy. On the other hand, seasonal allergy was caused by pollen of flowers blooming in spring. The study of pollen allergy hadn't been found in Thailand because most people had perennial allergy. However, pollen from devil tree or alstonia scholaris was considered as an allergen, so pollen allergy could be studied further in Thailand. 
Allergy occurs when immunity system of our body is sensitive to some types of protein or allergens from environment. In fact, these allergens cannot harm people who have normal immunity, but people having allergy can be sensitive to mold, wool, pollen or even their food consumed regularly. The allergy symptoms consist of watering eyes, coughing, sneezing, shortness of breath, swollen trachea, and rash on skin. In the past 40 years, 3-4 times higher number of patients having these symptoms has been found in Thailand, and there is the tendency to increase in the developed countries. 
Suggestions for patients having allergy
Allergy is a congenital disease, so please see the doctor before taking or buying drugs.

Have enough sleep and exercise regularly.

Avoid allergens, such as mold, wool, and pollen.

Stay in an open and well-ventilated place. Avoid air conditioned room.

Always keep body warm. 
News/ photos: Communication Affairs Division 
[ Thai ]