June 8-9, 2019, Faculty of Education by the new administrators of the faculty and schools led a workshop on Transfer of Faculty Strategies for 2019-2023
June 8-9, 2019 – Assoc. Prof. Dr. Sumalee Chaijaroen, Dean of Faculty of Education led the new administrative team of the faculty and Demonstration Schools to run a workshop of the Transfer of Faculty of Education's Strategic Plans for 2019-2023 at Wishing Tree Resort, Khon Kaen.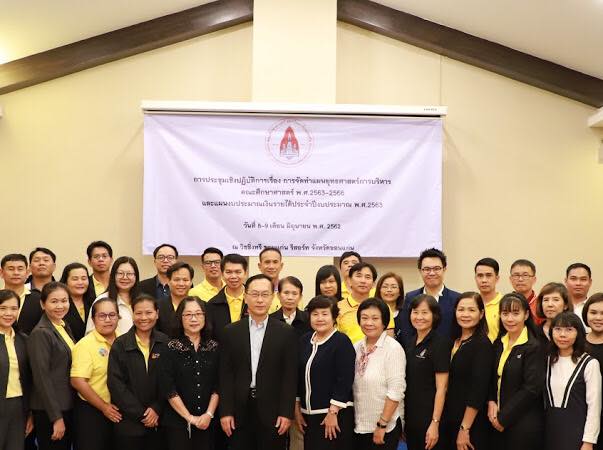 The event was honored to have Assoc. Prof. Dr. Charnchai Panthongviriyakul MD, Acting President of Khon Kaen University to give an opening address and a talk on policies and strategies of Khon Kaen University, which comprise 3 aspects, namely: People (P), Ecological (E), and Spiritual (S) and the roles of Faculty of Education to respond to education transformation and technology disruption in this digital era. After this, Assoc. Prof. Dr. Sumalee Chaijaroen, Dean of Faculty of Education gave a talk on the administration of Faculty of Education which comprises 3 pillars, namely, Academy transformation, Ecology transformation, and Spiritual transformation including the EdNext 3 Smarts: Smart Education, Smart Faculty, and Smart School. Following the talks, there were sessions on analytical and understanding of the strategies with the administrators of the faculty and the demonstration schools, which accented practices through the use of technology-enabled active learning. This activity built Smart-working atmosphere and culture. The final activity was activity design that responds to the faculty's plan/project, which was presented and commented by participants before each administrator will transfer it to all staff members in due course.